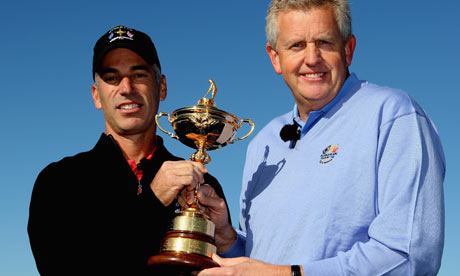 You may have noticed that the Ryder Cup is dominating much discussion in the Golf world right now. Every tournament played is either being referred to as a chance to get Ryder Cup points, to get in some form ahead of the Ryder Cup or an opportunity to show the respective captains why you should be picked as one of their wildcards.
It is the biggest tournament in golf though, so we can't complain. Sky Sports are promoting it heavily too – it is set to be shown in 3D – so everyone will be getting their Ryder Cup fix over the next couple of months.
So, with this in mind, it seems appropriate to take a look at the latest news with regards to the European and American teams.
First of all, let's look at Team Europe. They are undoubtedly the favourites for victory at Celtic Manor, but have had concerns over one of their star players' fitness recently.
Lee Westwood has been forced to withdraw from this week's USPGA Championship because of a calf injury and will be resting plenty over the next couple of weeks. The world number three isn't the most naturally fit individual either, so should European fans be concerned?
Not according to Colin Montgomerie, the skipper. He says that Westwood "will be hitting balls in four weeks which gives him another couple of weeks to prepare."
Even if Westwood is unable to play in a competitive tournament before the Ryder Cup, Monty believes that "three practice rounds around Celtic Manor will be good enough" for him to be firing on all cylinders for Europe.
Across the pond, the majority of focus has been on Tiger Woods – believe it or not. As we all know, he has been in horrendous form of late and this means he could rely on a wild card entry to compete in the Ryder Cup this year.
According to USA captain Corey Pavin, he isn't even guaranteed selection via this method though. Speaking about claims that Woods would definitely be a wild card pick, Pavin said that "nobody's promised any picks right now, it'd be disrespectful to everybody trying to make the team."
It is certainly an interesting situation for Pavin. Does he make the bold statement of dropping Woods or does he play it safe and call upon the world's greatest golfer? Either way, the headlines will be dominated by his choice, so he is in a bit of a no win situation.
When it comes down to it, he knows that Woods can win his team points and this will probably be what influences his decision. Are the US team more likely to be victorious with or without Woods?
These are the questions Pavin will be asking himself as the countdown to the 2010 Ryder Cup goes is well and truly underway.